Syn248®
Business telephone system
Just plug and talk with two simple components! Rich features, a built-in key system and PBX functionality supports up to 8 lines and 24 users.
Just plug and talk!
See how AT&T Syn248 can improve your business now.
---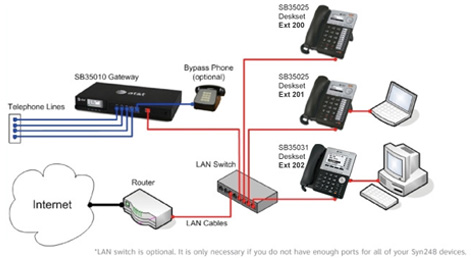 Easy to install
With only two components to order, AT&T Syn248 sets a new standard for simplicity. You'll be up and running in minutes with support for up to 8 lines and 24 users-no heavy equipment or bulky manuals to slow you down.
---
Easy to use
AT&T Syn248 works the way you do-no headaches, hassles or hidden costs. Large backlit displays, web-based administration, familiar call handling and more mean you have more time to focus on your business.
---
Easy on your business
Ready to move beyond your small, legacy PBX or key system? AT&T Syn248 offers scalability, flexibility and efficiency with a dual-mode auto attendant, built-in voicemail, multi-line appearances, dial-by-name (first or last) functionality and inbound call routing.
---
Simplify your communications
Dual Ethernet ports

The SB35025 / SB35031 deskset comes standard with dual Ethernet ports, so there's no need for extra cabling.

Built-in voicemail

Thirty minutes of recording time on each mailbox means no one will ever miss a message.

Dual-mode auto attendant

Customize call handling during business hours and after.

Intuitive call handling

Make a good impression every time with transfer, conference, speakerphone and paging features.

Line status appearances

Multiple calls? No problem. With Syn248's line appearances, it's easy to juggle more than one call.

Two-year warranty

Enjoy the peace of mind that comes with an industry-leading two-year warranty.
---
Build the system that's right for you
Start with a gateway

SB35010

(System supports up to 2 gateways, for a total of
8 analog phone lines)

Add desksets

SB35025 / SB35031

(System supports up to 24 desksets)

Add cordless headsets

TL7800
---
Or buy a pre-bundled system !
Syn248® 3-user bundle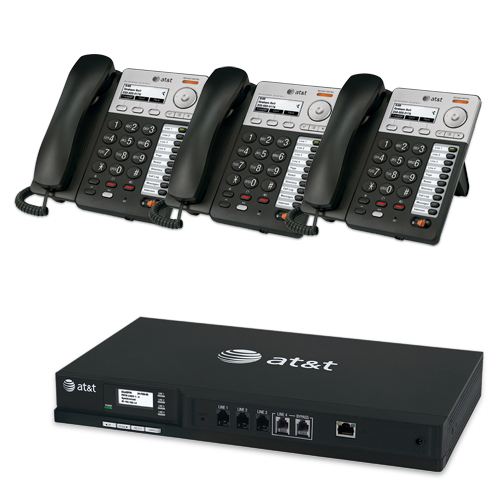 This system includes:
(3)SB35025 desksets
(1)SB35010 gateway
Syn248® 6-user bundle
This system includes:
(6)SB35025 desksets
(1)SB35010 gateway
---
Connect with us
Find out which AT&T business phone solution is right for you.
Need help?
Call 888.722.8521