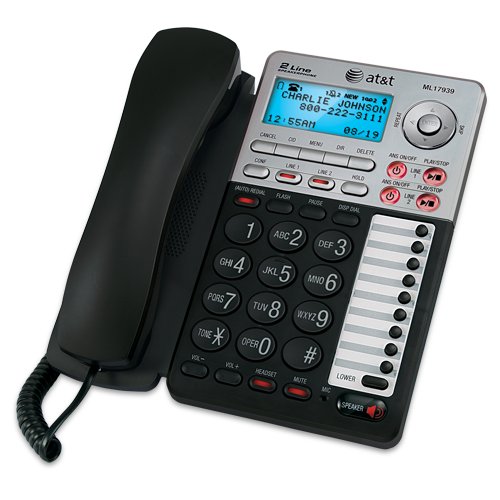 2-line speakerphone with caller ID and digital answering system
ML17939
Price
$79.95 Free shipping

You might also like
2-line operation

Dial and receive calls on two different phone lines.

Digital Answering System

Digitally records up to 12 Minutes of incoming messages, outgoing announcements and memos.2

Caller ID/call waiting1

Allows you to view the name, number, time and date of incoming calls at a glance, even those on call waiting.

ClearSpeak® dial-in-base speakerphone

Allow you to speak and listen without holding the handset. This leaves your hands free to do other things and lets more people in on the conversation.

100 name and number phonebook directory

Easily store and dial frequently called numbers.

3-party conferencing

Allows you to have a 3-way conversation between you and 2 other parties.
Multi lines features
2-line operation
3-party conferencing
Line-status indicator
Auto line selection
Basic phone features
Clearspeak® dial-in-base speakerphone
100 name and number phonebook directory
18-number speed dial
Headset compatible (2.5mm jack)
Display dial
Line power mode
Selectable ringer tones
Receiver and speakerphone volume control
Chain dialing
Data port
Hold
Mute
English/Spanish/French setup menu
Ringer volume control
Hearing aid compatible
Caller id features1
Caller ID/call waiting1
99 name and number caller ID history1
Digital answering system features
Digital answering system
Time and date stamp
Remote access with toll saver
Voice prompts
Memo recording
Call recording
Call screening
Call intercept
1Use of caller ID feature requires a subscription from your telephone service provider.