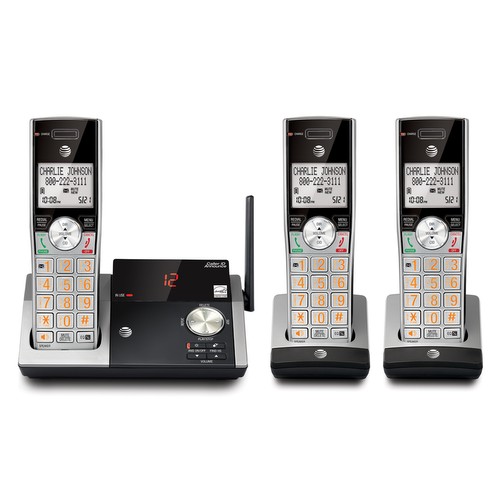 3 handset cordless answering system with caller ID/call waiting
CL82315
Price
$79.95 Free shipping

You might also like
Unsurpassed range

Experience the best in long-range coverage and clarity, provided by a unique antenna design and advances in noise-filtering technology.

Caller ID announce

Screening calls has never been easier. The handset and base announce the name of the caller, so you don't have to scramble for the handset to see who's calling.

Push-to-talk

No more shouting through the house. This system doubles as a multiple-handset walkie-talkie to instantly communicate with up to four units at once.

HD audio with equalizer for customized audio

Choose from four preset audio profiles, or use the equalizer to personalize bass, treble, and natural tones for your individual hearing needs.

Digital answering system

Digitally record up to 22 minutes of incoming messages, outgoing announcements, and memos. The system also allows for instant playback, selective save or delete, and skipping or repeating messages from the handset and base.

Digital answering system voice guide

Setting up your system just got easier. Talking prompts walk you through set up of your new phone's digital answering system, so you can be confident it's ready to record.
General features
Message counter
Caller ID/call waiting—50 name and number caller ID history
Simulated full-duplex handset speakerphone
Power backup
Extra-large display for easy viewing
Big buttons
Table- and wall-mountable
ECO mode power-conserving technology
Quiet mode
Call block
9 number speed dial
Expandable up to 12 handsets (uses CL80115 accessory handset)
DECT 6.0 digital technology
22 minutes of digital recording time
Call screening
Call intercept
Remote access
Message retrieval from handset
Message time stamp
Intercom between handsets
Conference between an outside line and up to 4 cordless handsets
50 name and number phonebook directory
Volume control
Compatible with AT&T cordless headset
Compatible with AT&T cordless accessory speakerphone
Voicemail waiting indicator
Quick access key for voicemail box
Last 10 number redial
Mute
Any key answer
English/Spanish/French setup menu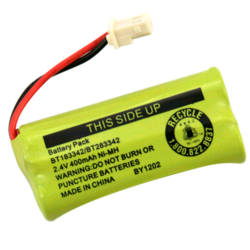 Cordless Battery BT283342
Accessory handset with caller ID/call waiting
Accessory handset only—requires a CL82115, CL82215, CL82315, CL82415, CL82465, CL82515, CL83215, CL83315, CL83365, CL83415, CL83465, CL83565, CL84115, CL84215, CL84265, or CL84365 to operate
Push-to-talk
HD audio with equalizer for customized audio
Caller ID/call waiting—50 name and number caller ID history