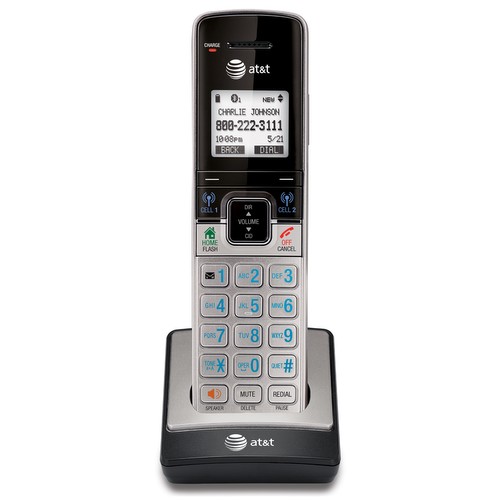 Accessory handset with caller ID/call waiting
TL90073
Price
$19.95
You might also like
Accessory handset only

Requires a TL92273,TL92373, TL92473, TL96273, TL96373 to operate

Mobile notifications2

Know when your Android® mobile phone receives a text, e-mail or social media update. Each handset beeps and displays which kind of message was received. You can also receive calendar reminders through the system.

Caller ID announce3

Screening calls has never been easier. The handset announces the name of the caller, so you don't have to scramble for the handset to see who's calling.
Connect to cell™1 features
Make and receive calls from your cellular plan while enjoying the comforts of a home phone system. By connecting to your mobile phone with BLUETOOTH® technology, this feature allows you to manage calls using either your cell or home phone, and offers expansion flexibility.
Download up to 6,000 cellular phonebook entries to the cordless handsets.
Pair up to two cellular lines and one landline with your cordless system. Then, enjoy the freedom to make and receive calls on all three lines—all at once.
Downloadable phonebook directory
Mobile notifications2
Virtual multi-line operation
Ringtone share - set your cordless phone to play your iphoneR (iOS4.1 or later) ringtone
Caller ID share - add contacts from your landline system to your mobile phone2
Swap between cellular and home line calls
Distinctive ringer tones for home and cellular lines
General features
Caller ID announce3
Push-to-Talk
HD audio with equalizer for customized audio
Simulated full-duplex handset speakerphone
Big buttons
Caller ID/call waiting3—50 name and number caller ID history
ECO mode power-conserving technology
Quiet mode
DECT 6.0 digital technology
Intercom between handsets
Conference between an outside line and up to 4 cordless handsets
200 name and number phonebook directory
Voicemail waiting indicator4
Quick access key for voicemail box
Last 10 number redial
English/Spanish/French setup menu
Mute
Any key answer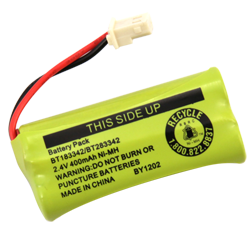 Cordless Battery BT183342
1Feature requires a subscription to cellular service on a compatible BLUETOOTH® technology-enabled cellular phone to operate. Refer to the support tab on the desired product detail page for a complete list of BLUETHOOTH® technology-enabled cell phones that have been tested and found to be compatible with this model.
2Feature available for compatible Android® phones with OS version 2.3 or above. To use, you must first download the free Connect to Cell app from the Google Play® Store app.
3Use of caller ID feature requires a subscription from your telephone service provider.
4Use of voicemail features requires a subscription from your telephone service provider.