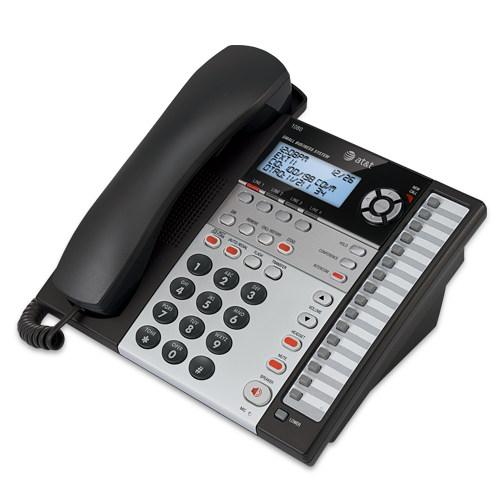 4-line small business system compatible with AT&T 1040, 1070 & 1080 units only
Corded 4-line telephone with digital answering system, base speakerphone, caller ID/call waiting1 and expandable up to 16 stations
1080
Price
$179.95 Free shipping

You might also like
1- to- 4-line capability

Compatible with as few as 1, and as many as 4, telephone lines.

Expandable system

Allows you to grow into a fully featured telephone system from 1 station up to a maximum of 16 stations

Auto attendant on each line

Auto Attendant answers outside calls, provides callers with a company directory, automatically forwards calls to a specified extension and enables callers to record voice messages when there is no answer.

Digital Answering System

Digitally records up to 60 Minutes of incoming messages, outgoing announcements and memos.2

Caller ID/call waiting1

Allows you to view the name, number, time and date of incoming calls at a glance, even those on call waiting.
Multi lines features
4-Line Operation
1- to- 4-line Capability
3-Party Conferencing
4 Lighted Line Indicators
Power Failure Operation on All 4 Lines
Line-Status Indicator
Auto Line Selection
Basic phone features
Speakerphone
32-Number Speed Dial
Headset Compatible (2.5mm jack)
Selectable Ringer Tones
Rapid Scroll
DSL Compatible (Splitters/Filters Not Included)
Receiver and Speakerphone Volume Control
Chain Dialing
Data Port
Hold
Mute
Auto Redial
Last 6 Number Redial
English/Spanish/French Setup Menu
Ringer Volume Control
Hearing Aid Compatible
Caller id features1
Caller ID/Call Waiting1
200 name and number caller ID history
Large, Blue-Lighted Display
New Call/Message Indicator
Digital answering system features
Digital Answering System
Time and Date Stamp
Remote Access with Toll Saver
Voice Prompts
Memo Recording
Call screening
Call Intercept
System features
Expandable System
Auto Attendant on Each Line
16 Intercom Number Locations
Page, Intercom and Call Transfer between Stations
DECT 6.0 cordless headset with up to 500 feet of range
DECT 6.0 cordless headset with up to 500 feet of range
Up to 500 feet of range
DECT 6.0 digital technology
Multiple wearing styles
Conference capability
User manuals
Quick start guides
1Use of caller ID feature requires a subscription from your telephone service provider.