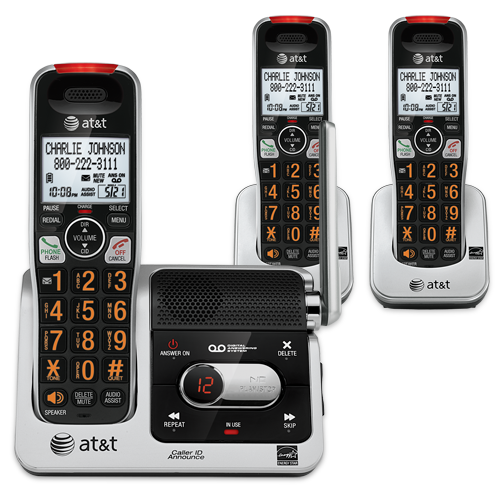 3 Handset Answering System with caller ID/call waiting
CRL82312
Price
$79.95 Free shipping

You might also like
Unsurpassed range

Experience the best in long-range coverage and clarity, provided by a unique antenna design and advances in noise-filtering technology.

HD audio with equalizer for customized audio

Choose from four preset audio profiles, or use the equalizer to personalize bass, treble, and natural tones for your individual hearing needs.

Caller ID/call waiting—50 name and number caller ID history

Handset displays the name, number, time, and date of incoming calls.

Simulated full-duplex handset speakerphone

Enjoy a speakerphone that can keep up with your calls. Increase participation by allowing both ends to speak—and be heard—at the same time for conversations that are more true to life.

Extra-large display for easy viewing

High-contrast black text on the extra-large screen makes it easy to read incoming caller ID or call history records. Plus, the lighted handset keypad allows for easy dialing in low-light conditions.

Big buttons

Enlarged font and extra-large, backlit keys make the keypad easy to use. This feature is especially helpful for those who are visually impaired.
General features
Wall-mount bracket included
High-contrast black text on the cordless handset makes it easy to read incoming caller ID or call history records. Plus, the lighted handset keypad allows for easy dialing in low-light conditions.
ECO mode manages power consumption so the system uses less energy and you get the best battery life.
Silence the ringer on the handset and base for just a moment or for an extended period of time.
9 number speed dial
By allowing you to add up to 12 handsets using just one jack, the 82x12 is ideal for your busy home or small office (model CRL80112 accessory handsets sold separately).
AT&T DECT 6.0 products provide unsurpassed range and clarity thanks to a unique antenna design and noise-filtering technology. This means phones that perform 45 percent better than the competition in lab tests—and the confidence you can take a call in the
Intercom between handsets
Conference between an outside line and up to 4 cordless handsets
Program up to 50 names and associated phone numbers in the handset. Quickly access the directory entries by scrolling alphabetically or by entering the first letter of a name.
Adjust the volume up or down to best suit your needs.
Compatible with AT&T cordless headset
Compatible with AT&T cordless accessory speakerphone
Voicemail waiting indicator
Quick access key for voicemail box
Last 10 number redial
Mute
Any key answer
English/Spanish/French setup menu

Accessory Handset with caller ID/call waiting
Accessory handset only—requires a CRL81112 , CRL81212 ,CRL82212 , or CRL82312 to operate
Caller ID announce
HD audio with equalizer for customized audio
Caller ID/call waiting—50 name and number caller ID history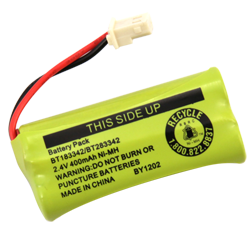 Cordless Battery BT183342