Cordless phone system with caller ID/call waiting
EL52100
Price
$29.95
You might also like
Handset speakerphone

Allows you to speak and listen without holding the handset. This leaves your hands free to do other things and lets more people in on the conversation.

Digital answering system

Digitally record up to 14 minutes of incoming messages4, outgoing announcements and memos. Also allows for instant playback, selective save or delete, and skipping or repeating messages from the handset and base.

Caller ID/call waiting1—50 name and number caller ID history

Handset displays the name, number, time and date of incoming calls.

Backlit keypad and display

The handset's easy-to-read LCD screen and lighted keypad make for effortless dialing in low-light conditions.

DECT 6.0 digital technology

Digitally Enhanced Cordless Telecommunications (DECT) 6.0 is a new frequency band that transmits your voice across multiple channels. This technology provides superior quality of voice and sound, high protection against wiretapping and better range than 2.4GHz and 5.8GHz phone systems, while not interfering with wireless routers.
General features
100 name and number phonebook directory
10 number speed dial
Voicemail waiting indicator2
Last 20 number redial
English/Spanish/French setup menu
Table- and wall-mountable
Mute
Any key answer
Digital answering system features
14 minutes of digital recording2
Call screening
Call intercept
Remote access
Message retrieval from handset
Message time stamp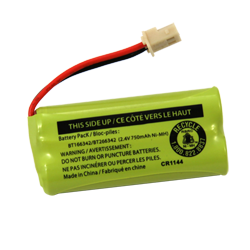 Cordless Battery BT166342
1Use of caller ID feature requires a subscription from your telephone service provider.
2Use of voicemail features requires a subscription from your telephone service provider.